From this page you can find out more about us, listen to this week's message (and of course, past ones too) and hear the pleasant sounds of our choir.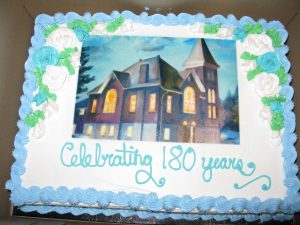 Shining the love of Jesus into Elgin County as a Spirit led, loving, friendly, beacon of hope for over 180 years.
Who is Knox, Fingal?
We are a local, community minded family church that is committed to sharing the love of Jesus and making everyone feel welcome and part of this Spirit led family!
"We truly are a wonderful place you will want to come back to!"
We look forward to you joining us next Sunday morning at 10:00am, to enjoy all the ways that Jesus is leading this congregation into tomorrow and to experience the love of God and warmth of God's people that has made Knox an enduring legacy in Fingal and the surrounding communities.
Want to know more?
Our weekly bulletin will now be available on this site to help you keep track of the happenings at Knox, Fingal!
For weekly event updates please go to our Facebook page.