Welcome to Knox Presbyterian Church in Moose Creek, Ontario.
*NEW* Our Spaghetti Supper is coming up! Please join us on September 9th from 4:30pm to 7:00!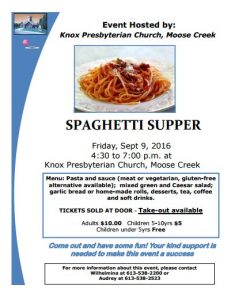 Menu: Pasta and sauce (meat or vegetarian, gluten-free alternative available); mixed green and Caesar salad; garlic bread or home-made rolls, desserts, tea, coffee and soft drinks. TICKETS SOLD AT DOOR – Take-out available
Adults: $10.00 Children 5-10yrs: $5.00 Children under 5yrs: Free
More details can be found here: http://pccweb.ca/knoxpc-moosecreek/event/spaghetti-supper/
Moose Creek is located three kilometers west of Highway # 138 between Highway # 417 and Highway # 43.
We are members of the Presbytery of Seaway-Glengarry and  we believe that our sense of community is strengthened through faith and fellowship.
Our service takes place on Sunday at 9:30 am and we welcome you to join us.
Our church is wheelchair accessible and we have a nursery for your children to play equipped with a sound system so parents can still hear the service while watching their children.