Welcome to KPC Weyburn Website
We are a congregation in Weyburn who worship joyfully in a very open and respectful way as followers of Christ. 
We are a church in which anyone can find God's grace, receive hospitality and warm welcome, and enjoy conversation as we share friendship, life, and faith. 
Here at KPC (Knox Presbyterian Church), we are caring, inclusive, and non-judgmental.  The Sacraments are given to all believers, and nobody questions where one has been nor judge by the who the person is. 
Newcomers to Weyburn and to our church will always be welcomed.  Come and join us for Sunday morning service at 10:30 am.                                              
We are located in downtown Weyburn. There is ample parking available on the street, and in the nearby municipal parking lot on 2nd Street.
Knox Presbyterian Church
136 2nd St., Weyburn
SK  S4H 0T8
Sunday Service at 10:30 a.m.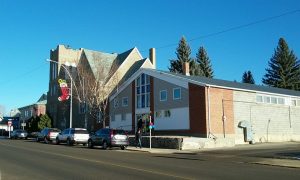 For more updated information, please visit…
           Knox Weyburn Facebook (Click here)