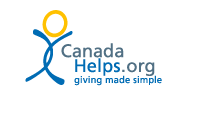 Rev. Todd's message today on radical generosity got me thinking – that there should be a donate button on this website! And now there is. Find it  by clicking on the Donate title tab across the top of our Home Page.
The fact is that even for something simple like a donation in lieu of flowers on the death of a loved one, people want to know how to make an online donation.
Knox is registered to receive online donations through the giving platform, Canada Helps. This platform has been helping Canadian charities for more than 15 years, and is used by most Canadian churches and charitable organizations.
To make a donation, click on the Donate button at left. This will take you to the Knox PC Acton donation page on Canada Helps. You can fill in the boxes on the form to make a one-time or regular donation.
You can indicate in the text box which ministry you would like your donation to go to, for instance youth or music or one of our missions. The choice is yours. And just like ordering flowers online, you complete the transaction by filling in your credit card number. You can also use Paypal, or there's even a box for donating securities.
Further, you can donate in honour of or in memory of someone. Find below a couple of pics from our Page on Canada Helps to show what it looks like.
It's a great way to stay in touch with and support Knox initiatives even if you don't live nearby.